SAPO ERDHI
FujiFilm Instax Mini 12
9,990 L – 11,490 L
Kamera kompakte INSTAX Mini 12 nga FujiFilm e cila i lan fotografitë në cast. Shkrepni fotografi me cilësi të lartë pavarësisht ambientit dhe dritës, falë shpejtësisë së lentes dhe opsioneve automatike të cilat përshtaten me dritën e ambientit. Distanca ideale është 30-50cm dhe mund të përshtatet lehtësisht duke rrotulluar lenten. Gjithashtu mund të realizoni selfie me ndihmën e pasqyrës krah lentes e cila ju ndihmon të qendërzoni pamjen sipas dëshirës, blici përshtatet automatikisht duke siguruar foto cilësore dhe jo të djegur.
Përshkrim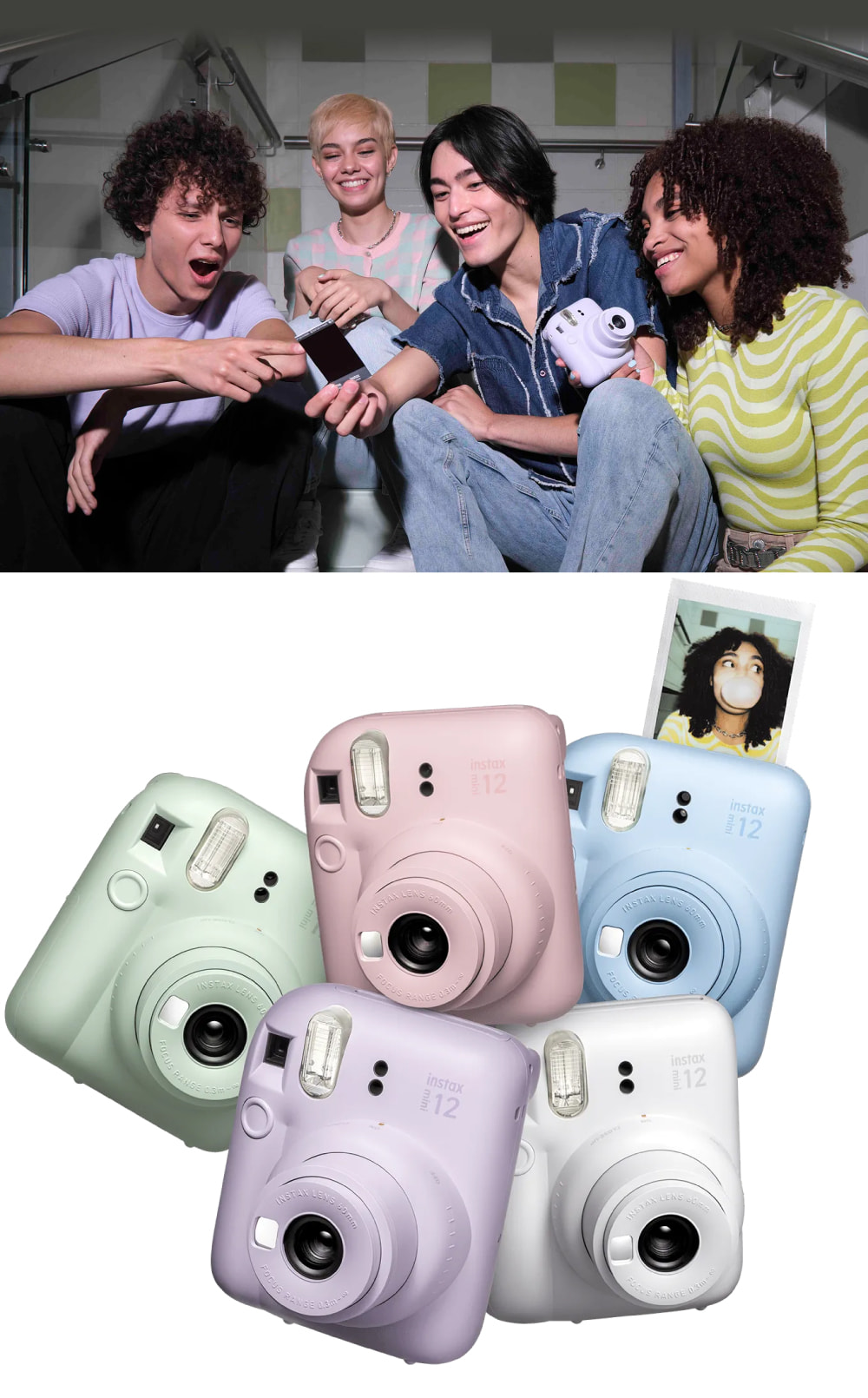 Informacion i detajuar
Color
Clay White, Mint Green, Blossom Pink, Lilac Purple, Pastel Blue
Film used
FUJIFILM instax mini Instant Film (sold separately)
Lens
2 components, 2 elements, f = 60 mm, 1:12.7
Viewfinder
Real image finder, 0.37×,
with target spot
Features parallax correction function
for Close-Up Mode
Shooting Range
0.3 m and beyond (use Close-Up Mode for 0.3 m to 0.5 m)
Shutter
Programmed electronic shutter
1/2 to 1/250 sec.
Slow synchro for low light
Exposure Control
Automatic, Lv 5.0 to 14.5 (ISO 800)
Film Developing Time
Approx. 90 seconds (varies depending on the ambient temperature)
Flash
Constant firing flash (automatic light adjustment), recycle time: 7 seconds or less (when using new batteries), effective flash range: 0.3 to 2.2 m
Power Supply
Two AA-size alkaline batteries (LR6),
capacity: approx. 10 instax mini film packs of 10 exposures each (depends on usage conditions)
* The supplied batteries are for trial use.
When they run out, replace them with new ones (alkaline batteries).
The performance of alkaline batteries varies depending on the brand.
* Manganese batteries cannot be used.
Other
Includes film counter and film pack confirmation window
Weight
306 g (without batteries, strap, and film)
Informacione për paketimin
1 x Instax Mini 12