Fujifilm Instax Share SP-3
24,990 L
Zgjidhni fotot tuaja më të mira nga celulari dhe merrni printime INSTAX thjesht duke i transferuar fotot nga aplikacioni "INSTAX SHARE" në SP-3 nëpërmjet lidhjes Wi-Fi. Ka shpejtësi printimi deri në 13 sekonda dhe bën pothuajse aspak zhurmë. Rezolucioni i lartë prej 800 x 800 dots dhe 318 dpi-sh tregon qartë detajet dhe shprehjet e fytyrës së portreteve, personazheve, materialeve, etj.
Përshkrim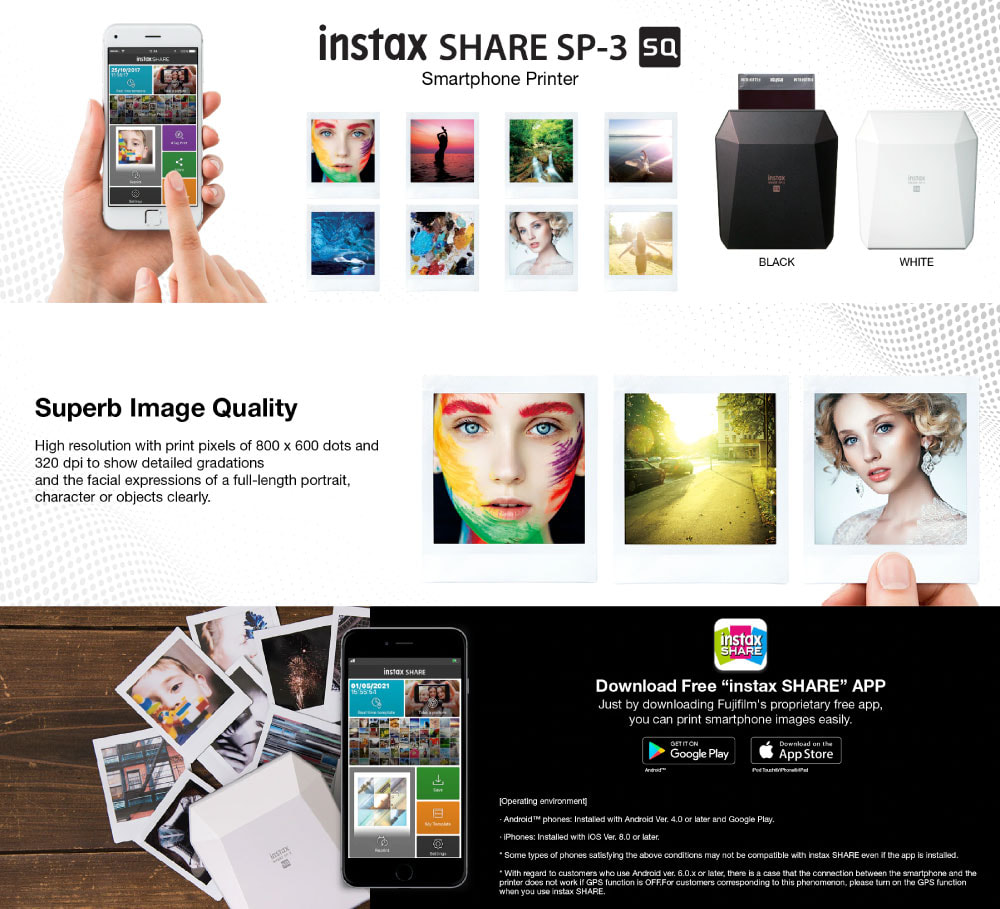 Informacion i detajuar
Recording method
3-color exposure with OLED
Film
FUJIFILM Instant Film "INSTAX SQUARE"
Printing resolution
12.5 dots/mm (318 dpi, 80 μm dot pitch)
Printing levels
256 levels per color (RGB)
Interface Standard compliance
IEEE802.11b/g/n, Operation frequency: 2412 MHz to 2462 MHz (11 ch)
Printing time
Image recording – photo output (Feed out) Approx. 13 sec.
Approximate printing capacity
Approx. 160 prints (Based on our test conditions)
Charging time
Approx. 3 hours (Varies depending on battery remaining level)
Dimensions
116 mm x 130.5 mm × 44.4 mm (excluding projections)
Weight
312g (without battery and film pack)
Informacione për paketimin
1 x INSTAX SHARE® SP-3
1 x Uer Manual