Kondicioner Midea Xtreme Eco 24BTU Inverter
139,990 L
Sistemi i ftohjes dhe ngrohjes përdor teknologjinë e avancuar të sterilizimit UVC, duke shfrytëzuar dritën e thellë ultravjollcë për të eliminuar në mënyrë efektive mikroorganizmat njëqelizore duke dëmtuar ADN-në dhe ARN-në e tyre, duke siguruar sterilizim të plotë. Për më tepër, sistemi përmban një mënyrë sterilizimi 56 °C, duke zhdukur me shpejtësi deri në 99,9% të baktereve pas dy cikleve të përdorimit. Mbrojtja e tehut Golden Fin me veshje hidrofile parandalon rritjen e baktereve në sipërfaqet e jashtme, rrit shpërndarjen e nxehtësisë dhe redukton kohën e shkrirjes, ndërsa mbrojtja rezistente ndaj korrozionit mbron fletët e aluminit nga faktorët mjedisorë. Për më tepër, modaliteti Breeze Away minimizon shqetësimet e ajrit të ftohtë, duke garantuar rehati optimale. Me vlerësime mbresëlënëse të efikasitetit të energjisë, zona të shumta ngrohjeje dhe ftohjeje dhe funksionalitet të përshtatshëm Wi-Fi, ky sistem ofron një zgjidhje gjithëpërfshirëse për ruajtjen e një mjedisi të brendshëm të pastër, të rehatshëm dhe të kontrolluar.
Përshkrim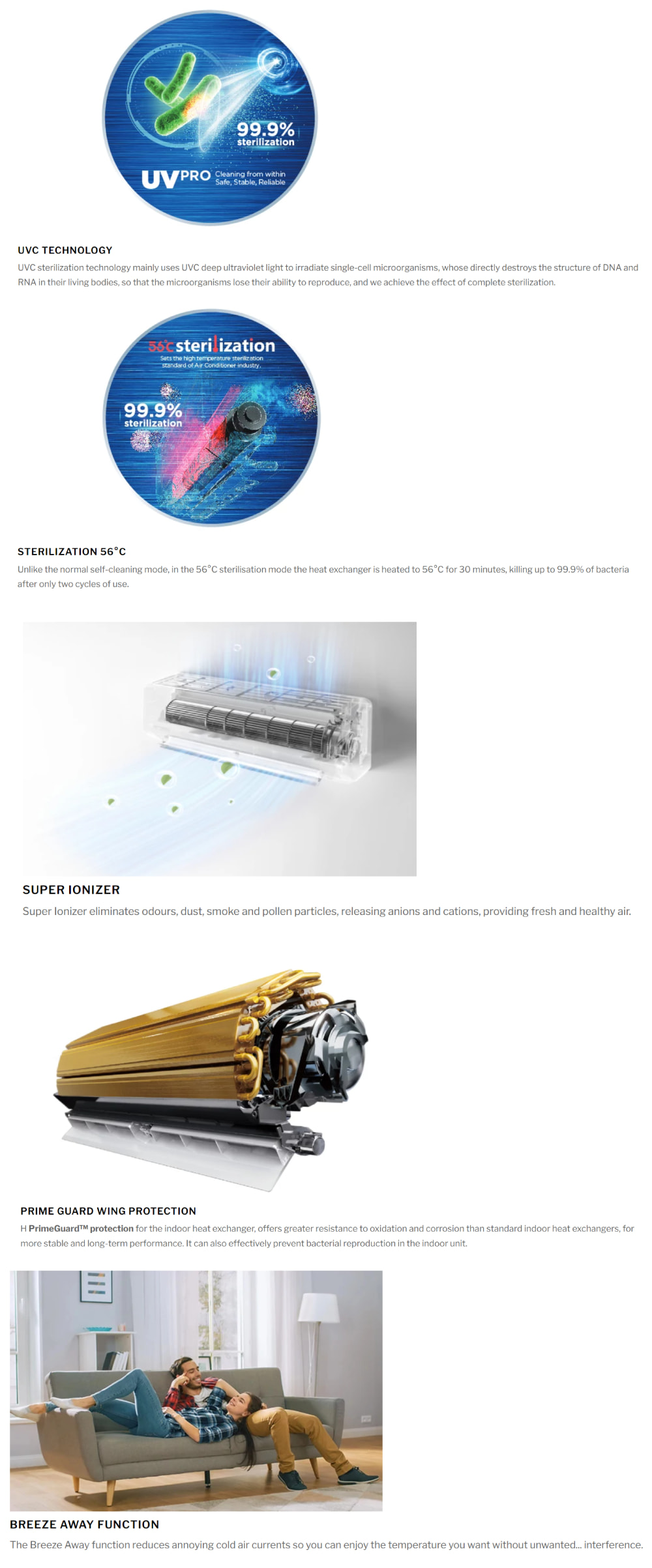 Informacion i detajuar
Cooling and Heating Performance
SEASONAL DEGREE OF ENERGY EFFICIENCY (SEER) FOR COOLING
SEASONAL RATE OF PERFORMANCE (SCOP) FOR HEATING (AVERAGE)
SEASONAL RATE OF PERFORMANCE (SCOP) FOR HEATING (WARM)
UVC STERILIZATION TECHNOLOGY
Utilizes deep ultraviolet light (UVC) to directly destroy the DNA and RNA of microorganisms, achieving complete sterilization.
STERILIZE 56 °C MODE
Heats the heat exchanger to 56 °C for 30 minutes, killing up to 99.9% of bacteria after two cycles of use.
HYDROPHILIC COATING
Prevents bacterial growth on outer surfaces and enhances heat dissipation.
CORROSION-RESISTANT PROTECTION
Provides resistance against corrosive factors like rain, sea breeze, etc.
BREEZE AWAY MODE
Reduces cold air currents for a more pleasant environment.
INDOOR UNIT NOISE LEVEL DB (A) (H / M / L / S)
COOLING POWER CONSUMPTION
HEATING POWER CONSUMPTION
INDOOR UNIT DIMENSIONS (W X D X H)
OUTDOOR UNIT DIMENSIONS (W X H X H)
Informacione për paketimin
1 x Indoor Unit
1 x Outdoor Unit
1 x Remote
1 x User Manual
Garancia e produktit
24 Muaj