SAPO ERDHI
Logitech MX Keys Mini Wireless Keyboard
9,990 L
Tastiera Logitech MX Keys Mini Wireless është një tastierë elegante dhe kompakte e krijuar për të optimizuar produktivitetin dhe komoditetin në pajisje të shumta. Dizajni i tij me ngjyrë gri të zbehtë dhe dizajni ultra i hollë me çelësat Perfect Stroke siguron një përvojë shkrimi të qetë dhe të heshtur. Ndriçimi i pasmë rregullon automatikisht ndriçimin në mjedise me dritë të ulët, duke rritur dukshmërinë. Me lidhjen me Bluetooth 5.0 me energji të ulët, ai ofron pajtueshmëri pothuajse universale me platforma të ndryshme dhe aftësinë për të lidhur deri në tre pajisje njëkohësisht. Duke përdorur Logitech Flow me softuerin Logi Options, përdoruesit mund të kalojnë pa mundim midis pajisjeve dhe të kopjojnë/ngjisin tekstin, imazhet dhe skedarët pa probleme. Përfshirja e çelësave inteligjentë mundëson funksione si futja e emoji-ve, ndezjen e mikrofonit dhe aktivizimi i diktimit zanor. Me një bateri të integruar që zgjat deri në 10 ditë dhe rimbushje të lehtë nëpërmjet USB Type-C, Logitech MX Keys Mini siguron produktivitet dhe komoditet të shtuar si në zyrë ashtu edhe në lëvizje.
Përshkrim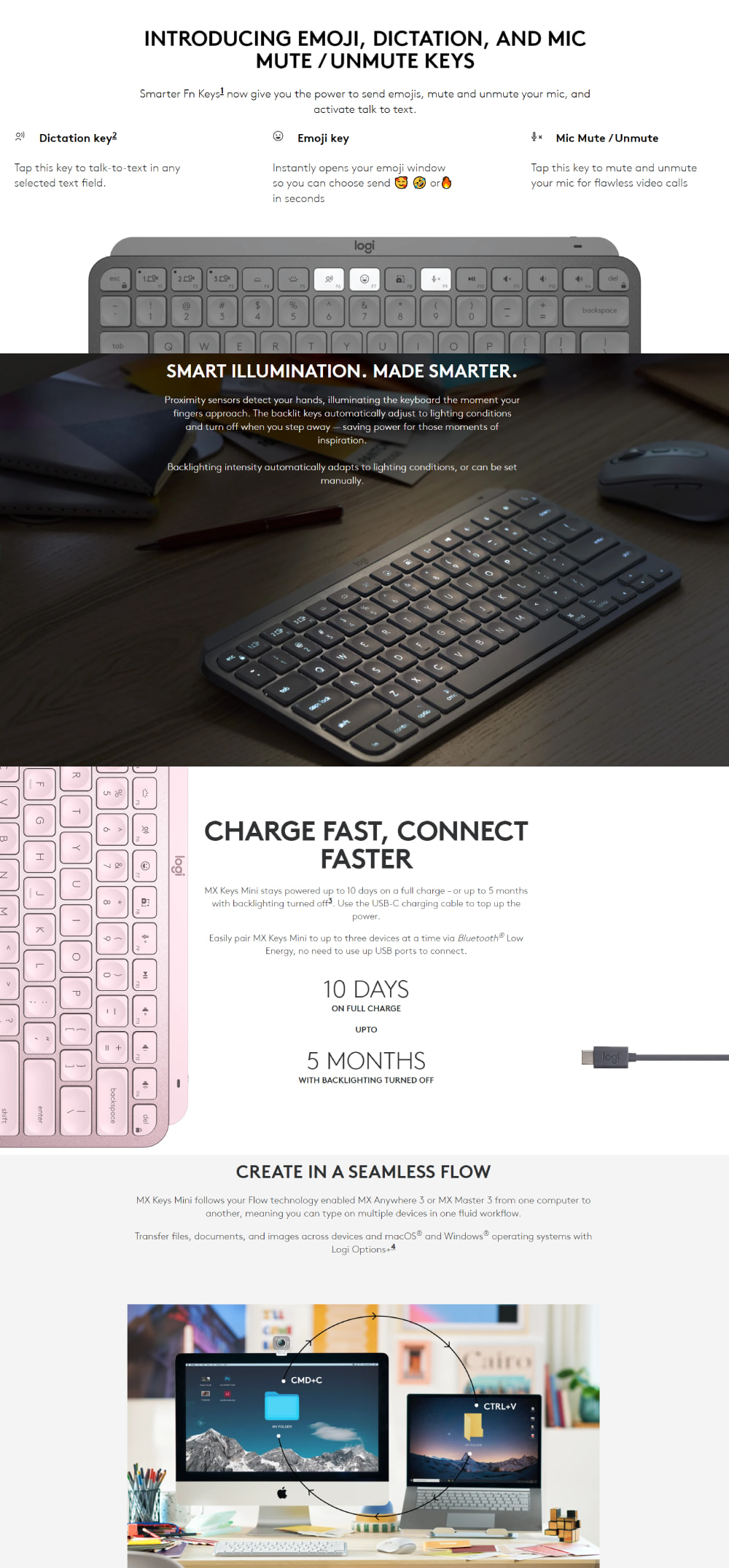 Informacion i detajuar
Keyboard Type
Perfect Stroke Illuminated
Battery Type
Rechargeable Li-Po (Lithium Polymer)
Battery Life
Up to 10 days on a full charge (may vary based on usage)
Key Type
Low-profile, backlit keys with scissor switches
Key Life
Up to 10 million keystrokes
Easy-Switch
Connect and switch between up to three devices
Illuminated Keys
Backlit keys with adjustable brightness
Additional Features
Dedicated Media and Shortcut Keys
USB-C Rechargeable
Logitech Options software for customization and settings
Compatible Devices
Computers, laptops, tablets, smartphones
Requirements
Internet connection for software download.
Logi Options+ software on macOS and Windows®
USB port or Bluetooth® low energy enabled device with keyboard support.
Dimension
131.95 x 295.99 x 20.97 mm
Informacione për paketimin
1 x Keyboard
1 x USB-C Charging Cable (USB-A to USB-C)
1 x User documentation