OFERTA VETËM ONLINE
JBL Quantum 200
7,990 L
Kufje Quantum 200 te JBL. Lidhje me kabell. Mund te degjoni edhe tingullin me te vogel. Anullim eko, Te perbera me material shume cilesor dhe miqesor me lekuren. Shume te rehatshme. Kufjet perfekte per te luajtur me ore te gjata.
Përshkrim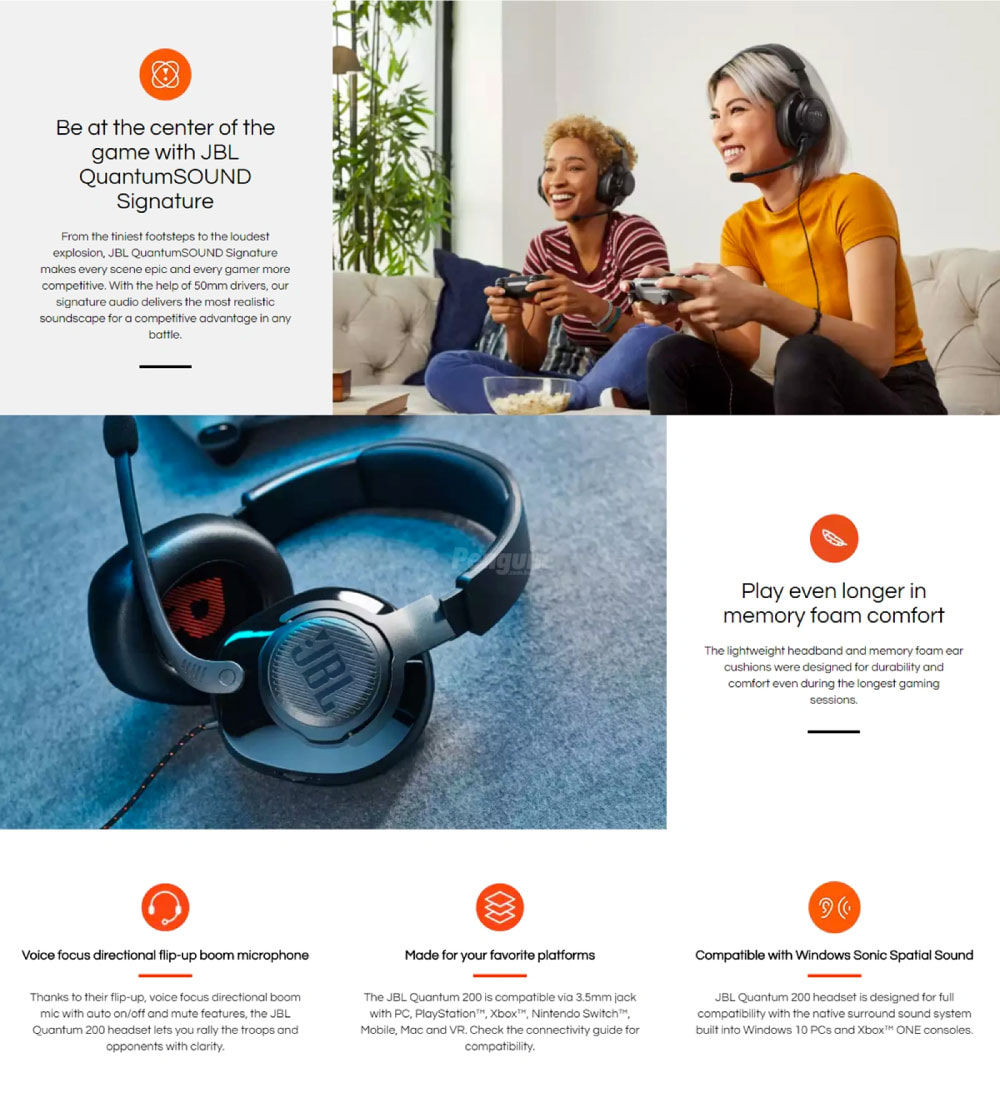 Informacion i detajuar
Headphone cable length (ft)
Headphone cable length (m)
Driver sensitivity at 1kHz/1mW (dB)
Dynamic frequency response range (Hz)
highlights
• over-ear, closed-back design provides noise isolation
• 50mm drivers deliver clear sound with deep bass emphasis
• JBL's Quantum SOUND signature tuned for immersive gaming sound with hard-hitting effects
• attached voice-focused directional microphone
• raise boom arm to mute the mic
• volume control dial on left earcup
• lightweight design with snug, secure fit
• soft memory foam earcup and headband padding helps relieve pressure on your head and ears
• detachable 47" fabric-covered cable terminated with a 3.5mm miniplug
• connects to PlayStation or Xbox controller
• PC splitter with single-to-double 3.5mm miniplug adapter included (for headphones and mic)
Earcup Design
The Quantum 200's over-ear headset features soft memory foam ear pads for comfort, durability, and even passive noise reduction. The large, integrated rotary volume control, located on the left earcup, gives you easy and fast sound level adjustment at your fingertips.
Drivers
Quantum 200's large 50mm dynamic drivers deliver JBL's QuantumSOUND Signature which for more realistic gaming. The headset is compatible with the native surround sound system built into Windows 10 PCs and Xbox ONE consoles.
Microphone
The boom microphone has a voice focusing directional pattern so your communications are crystal clear. It has a frequency response of 100-10kHz, and a sensitivity rating of -40 dBV/PA. The 4mm x 1.5mm microphone is on a 6" boom that can be rotated into position, or flipped up and out of the way when you're not using it. Raising the boom to the upright position automatically engages the microphone mute. A foam windscreen for the microphone is included to cut down on wind noise and plosive sounds.
Connections
The Quantum 200 comes with a 4', non-detachable, fabric-covered cable with an angled 3.5mm plug that supports Xbox, PlayStation, Nintendo Switch, mobile, Mac, and VR platforms. A 62" PC splitter extension features dual 3.5mm plugs for the microphone input and headphone output on your PC.
Informacione për paketimin
JBL Quantum 200 headset
PC splitter
windshield foam for boom microphone
QSG | Safety Sheet