AirPods 3rd Generation
17,990 L
AirPods 3 janë të lehta sa një pupël dhe kan dizajn të konturuar. Bishti i kufjeve është 33 përqind më i shkurër se ai i AirPods 2 dhe është i pajisur me sensor për kontrollin e lehtë të muzikës dhe telefonatave. Bateria gjithashtu vjen më e përmirësuar dhe ju ofron një orë më shumë përdorimi. Me vetëm 5 minuta karikim do të merrni rreth 1 orë kohë dëgjimi ose telefonate.
Përshkrim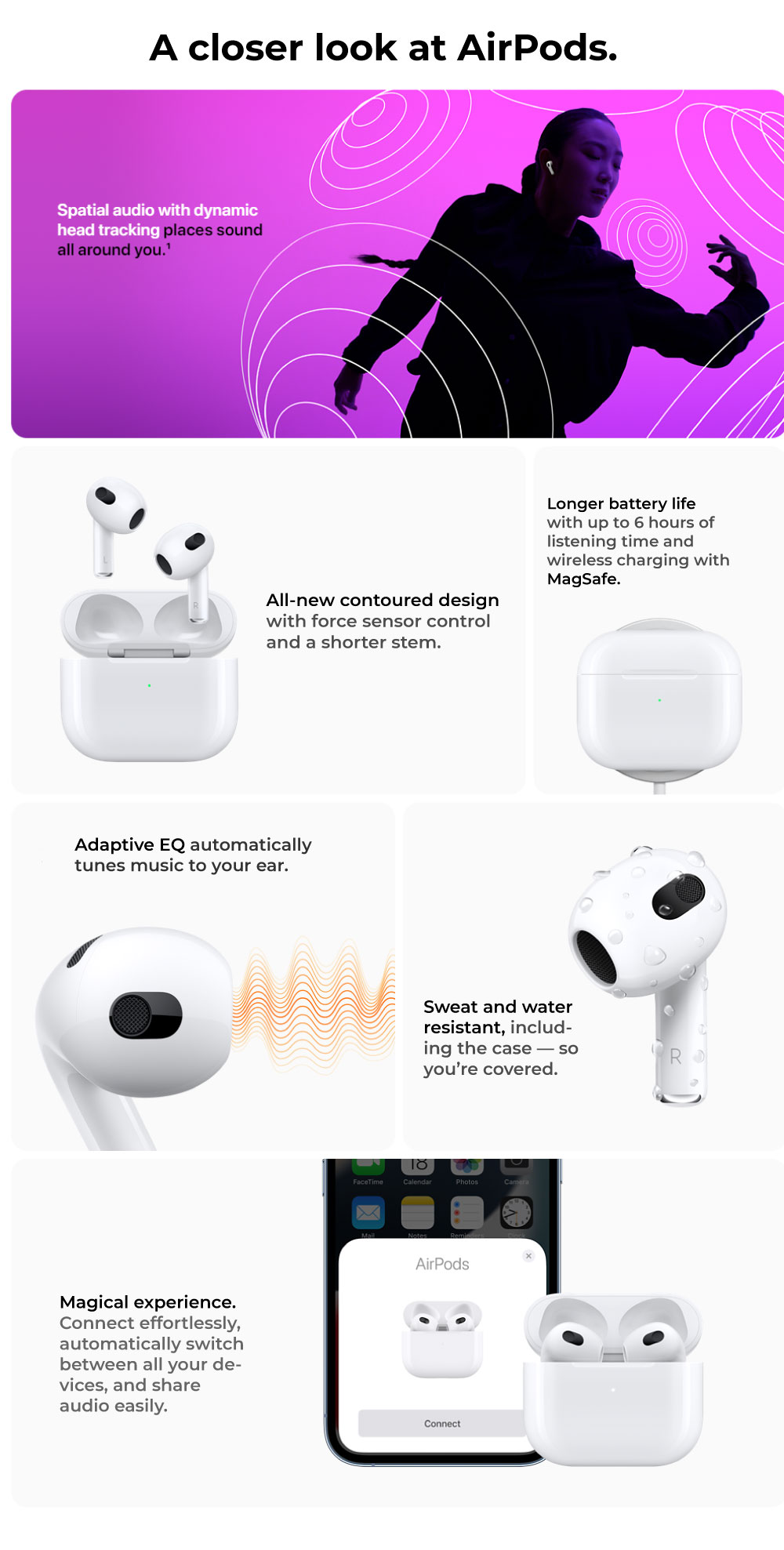 Informacion i detajuar
Audio Technology
Spatial audio with dynamic head tracking
Adaptive EQ
Custom high-excursion Apple driver
Custom high dynamic range amplifier
Sensors
Dual beamforming microphones
Force sensor
Inward-facing microphone
Motion-detecting accelerometer
Skin-detect sensors
Speech-detecting accelerometer
Controls
Press once to play, pause, or answer a phone call
Press twice to skip forward
Press three times to skip back
Press and hold for Siri
Say "Hey Siri" to do things like play a song, make a call, or get directions
Sweat and Water Resistant
Sweat and water resistant (IPX4)
Size and Weight
AirPods (each)
Height: 1.21 inches (30.79 mm)
Width: 0.72 inch (18.26 mm)
Depth: 0.76 inch (19.21 mm)
Weight: 0.15 ounce (4.28 grams)
MagSafe Charging Case⁹
Height: 1.83 inches (46.40 mm)
Width: 2.14 inches (54.40 mm)
Depth: 0.84 inch (21.38 mm)
Weight: 1.34 ounces (37.91 grams)
Charging Case
Works with MagSafe charger, Qi-certified chargers, or the Lightning connector
Battery
Up to 6 hours of listening time with a single charge (up to 5 hours with spatial audio enabled)
Up to 4 hours of talk time with a single charge
AirPods with MagSafe Charging Case
Up to 30 hours of listening time
Up to 20 hours of talk time
5 minutes in the case provides around 1 hour of listening time or around 1 hour of talk time
Accessibility
Accessibility features help people with disabilities get the most out of their new AirPods.
Features include:
Live Listen audio
Headphone levels
Headphone Accommodations
Details
iPhone and iPod touch models with the latest version of iOS
iPad models with the latest version of iPadOS
Apple Watch models with the latest version of watchOS
Mac models with the latest version of macOS
Apple TV models with the latest version of tvOS
Informacione për paketimin